Nitori, Japanese home retail giant, plans to add 200+ stores in the next two years
Source:CTW
The Nitori Group's mid- and long-term goal is to increase the number of global stores to 1,000 by 2022 and 3,000 by 2032.
Nitori, Japanese home furnishing retail giant Holdings, recently stated that it will speed up the opening of stores again from 2021.
From 2019 to 2020, the Nitori Group will add 30-50 stores each year, and will add 100 stores from 2021 and focus on large-scale shopping mall-type stores covering an area of 1,000 square meters or more and providing services such as rebuilding of old houses. As of the end of December 2020, Nitori Group has a total of 642 stores, of which there are 574 stores in Japan (11 clothing stores) and 68 overseas stores, an increase of 31 stores from the end of February 2020.
In 2011, Nitori set foot in shopping mall operations firstly and launched Nitori Mall, focusing on the concept of "providing a rich selection of products and low prices". To implement this concept, Nitori Mall brings together fashion and lifestyle products, food and service brands that Japanese consumers love. Most of its merchants are "representative chain brands" in various industries, such as GU and Uniqlo under Fast Retailing Group ( Uniqlo), Japanese burger chain MOS BURGER, shoe chain ABC-MART, etc.
Nitori founder, chairman of the board and CEO said: "(Target) is to add more than 100 new companies in 2021 and at least 100 new ones in 2022. In 2019 and 2020, we are ready to move forward. In the future, we will start from the three parties of people, things and money and launched the offensive again." The group's mid- and long-term goal is to increase the number of global stores to 1,000 by 2022 and 3,000 by 2032.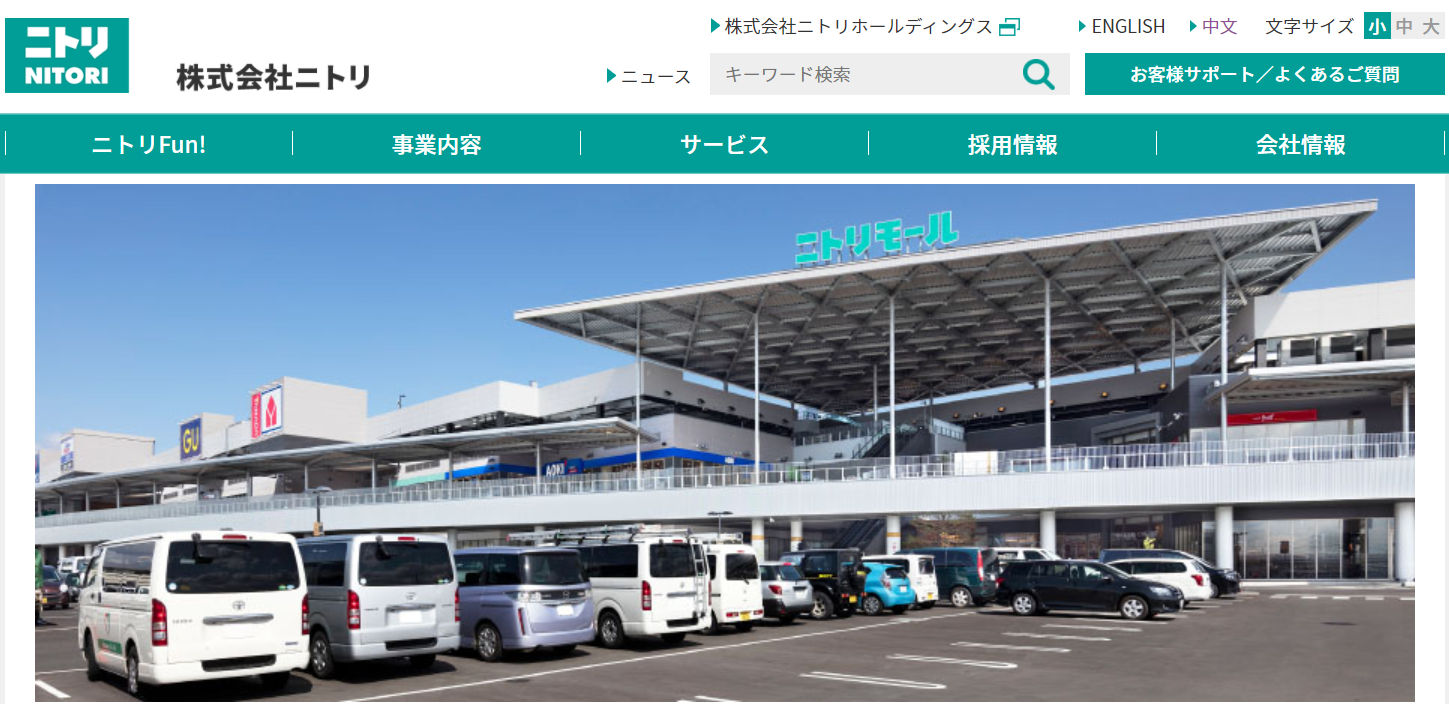 Under the COVID-19 epidemic, Nitori, the core brand of the Nitori Group, still has a strong performance. From February 21 to November 20, 2020, group sales increased by 12.2% year-on-year to 504.14 billion yen; operating profit increased by 40.3% year-on-year to 118.5 billion yen, and net profit increased by 33.4% year-on-year to 76.72 billion yen.
Affected by the COVID-19 epidemic, consumption at home has become popular in Japan. The financial report shows that from February 21 to November 20, 2020, Nitori comparable store sales increased by 10.9% year-on-year. Although the passenger flow dropped by 3.1%, the passenger unit price increased by 14.5%. In addition, Nitori's online sales (including overseas) increased by 59.5% year-on-year to 52.7 billion yen. Due to the appreciation of the yen, the import price of overseas-produced goods fell, and the gross profit margin rose by 2.3 percentage points to 57.1%.