Amazon to Acquire Eero, Strengthen Smart-Home Lead
Will future Echo devices double as mesh networking nodes?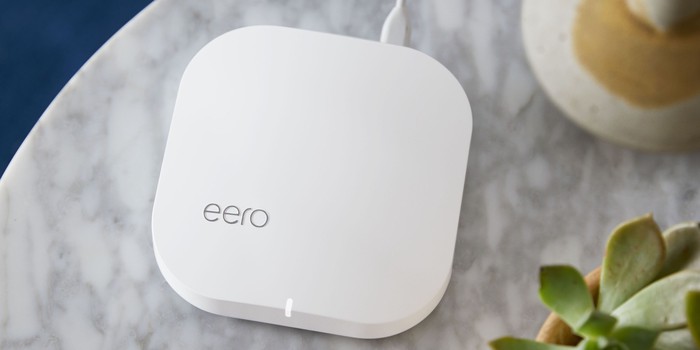 E-commerce giant Amazon.com (NASDAQ:AMZN) has been aggressively pushing deeper into hardware and had acquired two companies in recent years to accelerate those efforts. The tech titan scooped up Blink in December 2017 and Ring just a couple months later in 2018 -- two companies that were making smart security cameras and doorbell cameras.
Amazon has just announced another hardware-centric acquisition: Eero.
Beefing up the smart home
Amazon says the deal will pave the way for better connections with smart-home devices. "We have a shared vision that the smart home experience can get even easier, and we're committed to continue innovating on behalf of customers," hardware chief Dave Limp said in a statement. No financial terms were disclosed, but Eero had raised a total of $90 million in venture backing during its private life and was most recently valued at approximately $250 million in 2016.
Eero is one of the early pioneers of Wi-Fi mesh technology, which covers large areas better than traditional extenders by using multiple nodes that serve as network access points and blanket a home or office with coverage. Eero had already integrated with Alexa, allowing users to control their routers with voice commands, such as pausing a specific device's connection.
Amazon had previously invested $12.5 million in Luma, a different start-up developing Wi-Fi mesh technology, via its Alexa incubator fund. The market for Wi-Fi mesh routers is expected to reach $4 billion by 2023, according to Market Study Report.
Privacy advocates and other skeptics fear that Amazon will leverage the acquisition to monitor users' internet activity and traffic, collecting even more data that could theoretically be used to augment its growing advertising ambitions. But Eero is assuring users that it does not track any of that information, pointing to its privacy policy.
Amazon has established itself as a leader in the broader smart-home tech race, and those gadgets all rely on solid internet connections to function and perform properly. Generally speaking, Wi-Fi standards advance extremely slowly, and mesh networks offer the biggest leap in performance in recent memory.

With router powers combined
There are plenty of ways that the Eero acquisition can accelerate Amazon's smart-home road map. Beyond just deeper integration between routers and other gadgets, there is a nascent category of smart speakers that double as routers. For example, NetGear launched the Orbi Voice late last year, a smart speaker/router combo that connects to the company's Orbi mesh system and also supports Alexa. ASUS announced a $220 Alexa-powered router called the Lyra Voice last month.
Amazon could potentially have similar ideas up its sleeve, turning Echos into mesh network nodes or adding Wi-Fi capabilities to the Echo Plus, which also serves as a smart-home hub. The possibilities are endless.
Google is in, Apple is out
Alphabet (NASDAQ:GOOG) (NASDAQ:GOOGL) subsidiary Google has been making significant inroads in the smart speaker market, which ties directly into the smart-home space. Google jumped into mesh networking years ago, releasing Google Wifi in 2016. That product followed OnHub, the first router that Google made.
Google represents the largest and most direct competitor to Amazon's dominance of the smart home, so it's little wonder why Amazon feels compelled to get into consumer networking equipment, even as Apple just recently discontinued its line of Airport routers. Apple instead now sells the Linksys Velop mesh system; primary contract manufacturing partner Foxconn owns Linksys.
The Eero acquisition is a no-brainer, one that should reinforce Amazon's lead in smart-home technology.
Should Amazon be on your buy list? It's on ours...

Motley Fool co-founders Tom and David Gardner have spent more than a decade beating the market. In fact, the newsletter they run, Motley Fool Stock Advisor, has tripled the S&P!*

Tom and David just revealed their ten top stock picks for investors to buy right now. Amazon made the list -- but there are 9 other stocks you may be overlooking.
(Source: fool.com)