LINDSEY ADELMAN designs Paradise lighting collection
Source:Yellowtrace.com
Paradise was designed to be endlessly customizable.
Known for her rigorous but poetic approach to lighting, American designer Lindsey Adelman returned to Salone del Mobile 2021 to introduce another boundary-pushing collection.
Titled Paradise, this new range captures a luxurious spirit of nomadic wandering and creates a feeling of indulgent spontaneity. Meticulously crafted elements are swagged, pierced and illuminated to generate an unexpected clash of couture and punk.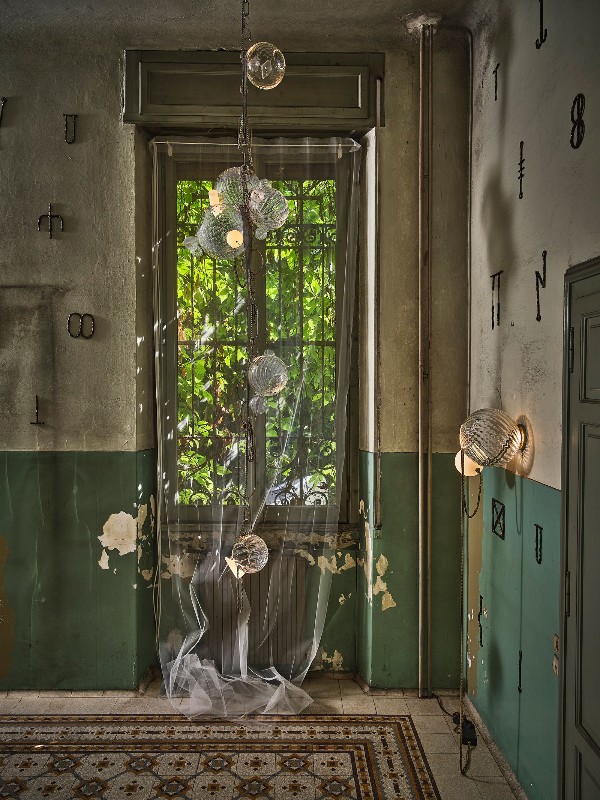 The wall symbols, made of stoneware with a custom bronze glaze, were created specifically for Adelman's presentation at Alcova, set with a 19th-century cluster of buildings in the Inganni district of Milan — a visual vocabulary capturing a kind of pre-verbal, more primitive state of communication.
Lindsey drew every sign from intuition and as she looked at each, ascribed meanings spontaneously. While aesthetically they are reminiscent of ancient texts, they were made without referencing any existing culture or markings in order to more instinctively create a new alphabet for a fictitious narrative in Lindsey's head.
While Paradise captures the charge of nomadic wandering and open-eyed exploration, these symbols are the communication of this spirit.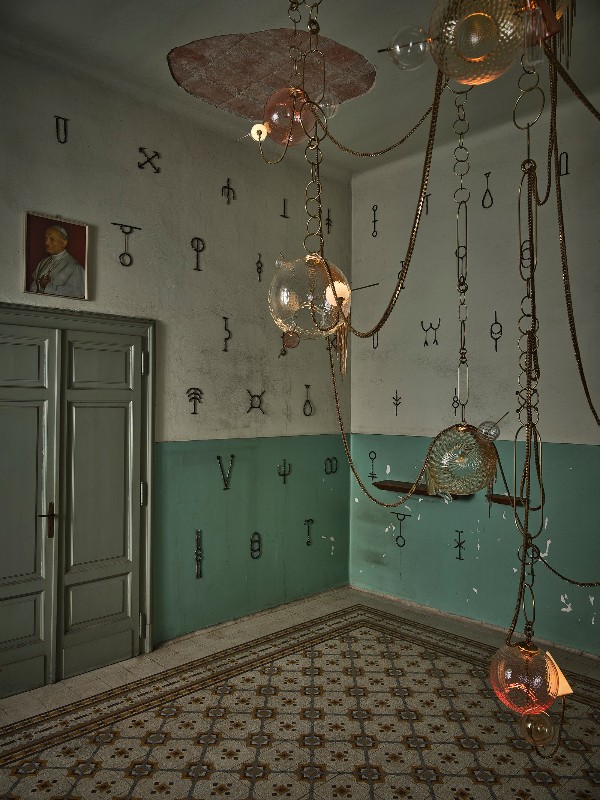 Nancy Hass writes about the collection — For centuries, glassblowers on the island of Murano passed down their expertise strictly through the generations, keeping their magic to themselves. But in recent years, thankfully, those master craftsmen have come to embrace and be embraced by a young wave of American glass artisans eager to reinterpret history.
Such a joyous exchange was among the inspirations for Paradise, a sprawling sculptural cascade of textured globes (blown by Brooklyn-based Michiko Sakano and Vetro Vero studio in Pennsylvania) on a network of large-link brass chains that drape as gracefully as a necklace.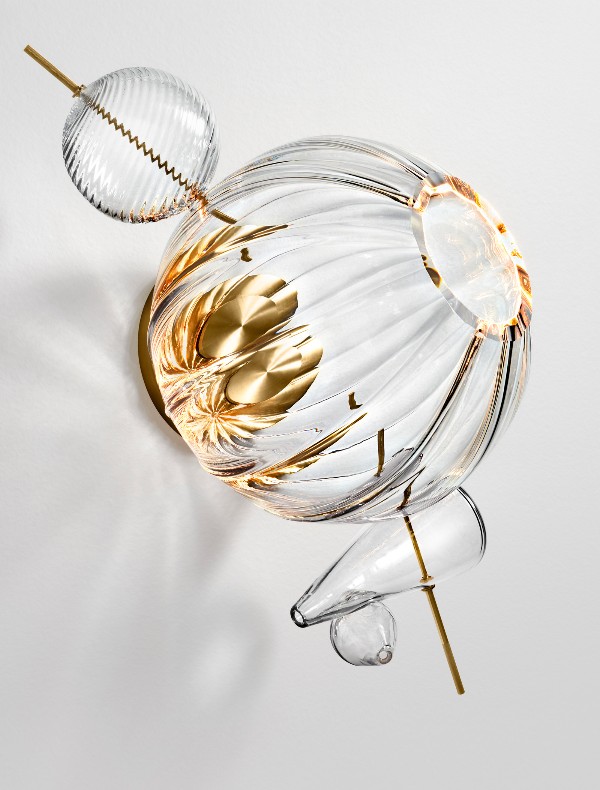 Throughout, opaque and translucent cones, cylinders, spheres and diamonds poke out at vertiginous angles, and slender polished pins add an edge of dangerous glamour. Using an innovative, labour-intensive technique, New York textile artist Taryn Urushido crochets the electrical wires invisibly through heavy handmade brass chains, rendering Paradise's subtle illumination even more miraculous.
In addition to an array of standard models, small-scale pendants and sconces, Paradise was designed to be endlessly customizable: it can twist and torrent down the well of an open circular staircase or dance endlessly across the ceiling.

The source has been identified in this article. All copyrights belong to the original anthor. In case of infringement, please contact us.