Lantern, a New Carrier of Ancient Chinese Technology in the 3rd Salone Satellite Shanghai
RUXUE SONG, a Winning Designer of the 3rd Salone Satellite Shanghai
RUXUE SONG won the third prize at SaloneSatellite Shanghai with her work Lantern, which is a lamp created inspired by the bamboo bird cage, and it can display two different visual angles just as a lantern, and it can be carried by one hand.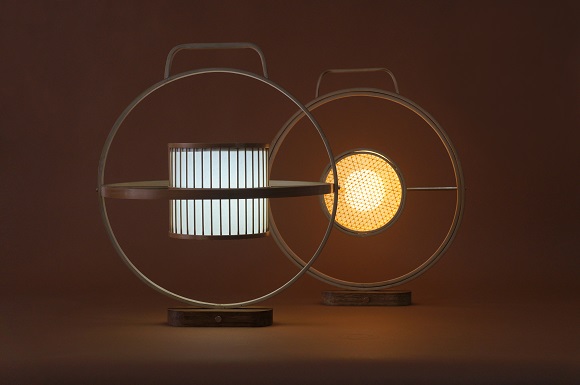 Lantern become a new carrier of the ancient technology
JJGLE: Can you briefly introduce your design inspiration or your design style?
My inspiration of this Lantern comes from "celestial globe" which was a reflection of the exploration and enlightenment of the universal chaos. Lantern is a kind of lighting tool having the sense of age. In the ancient times, it fueled with the animal or plant oils and then fueled with the wax, alcohol and kerosene, and nowadays, it has been replaced by the integrated LED. I adopt the bamboo bird cage craft and bamboo weaving while designing it so as to enable the Lantern to become a new carrier of the ancient technology. The main part can rotate, and it can provide people with different warm atmospheres when it rotates.
Handicrafts with traditional Chinese culture complex
JJGLE: What is the market orientation of the products designed by you? Who are the main user groups? What is the most important requirement of the users you want to meet?
For the market orientation, I hoped that the travelers would be willing to consume the local handicrafts even if they were in the tourist attractions at the very beginning. However, the connection with the industry chain production completely depended on me finally and the parts were processed and assembled in multiple places, so this orientation may not be completely met in the current sales price and production cycle. However, I hope that it can face the consumers slightly having the traditional culture complex among the mass consumers finally.
JJGLE: What do you think of the current domestic home furnishing market?
The imitation is serious; the production capacity is excessive; the homogenized products in the market are saturated, and the successful business cannot completely represent the height of design. Many brands are engaged in the original design as well, but there may be more from the perspective of the market.
(Source: JJgle.com)