Cassina' s Pro collection of reissued iconic furniture pieces features on Dezeen Showroom
Source:Dezeen.com
The products are presented as part of Cassina' s new Pro collection, which brings together the brand's most iconic pieces designed for the workplace and hospitality sector.
Italian brand Cassina has presented a selection of its most iconic furniture pieces on Dezeen Showroom, including designs by Philippe Starck, Patricia Urquiola and Ronan and Erwan Bouroullec.
The products are presented as part of Cassina' s new Pro collection, which brings together the brand's most iconic pieces designed for the workplace and hospitality sector.
The range encompasses chairs, sofas, desks and tables that were designed by renowned architects and designers and have now been reimagined with a contemporary twist.
Products included in the Pro series range from desks that now feature integrated power access, to sofas with more compact footprints to suit smaller spaces.

Read on to see more products included in the Pro collection: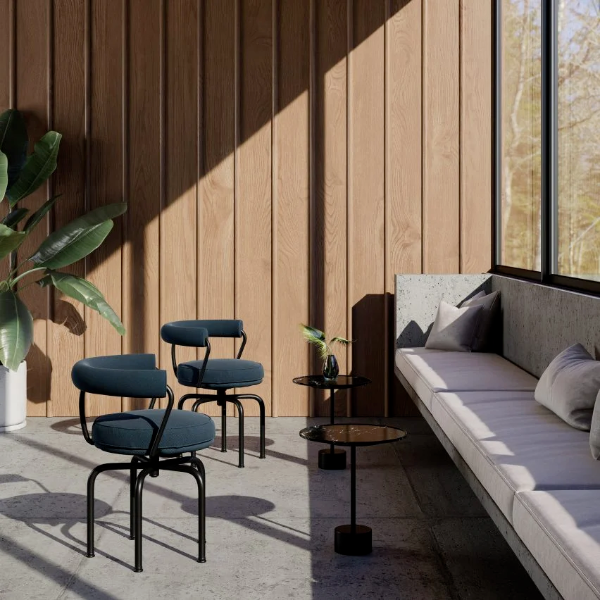 LC7 Siège tournant, fauteuil swivel armchair by Charlotte Perriand
French architect and designer Charlotte Perriand originally designed the LC7 Siège tournant swivel armchair in 1927 for her Paris apartment.
The armchair features an enveloping backrest and padded seat cushion that come in a choice of leather or fabric, which are supported by five tubular steel legs that can be finished in polished chrome or painted.
The chair has now been reissued and also been integrated in Cassina's Collection Le Corbusier, Pierre Jeanneret, Charlotte Perriand.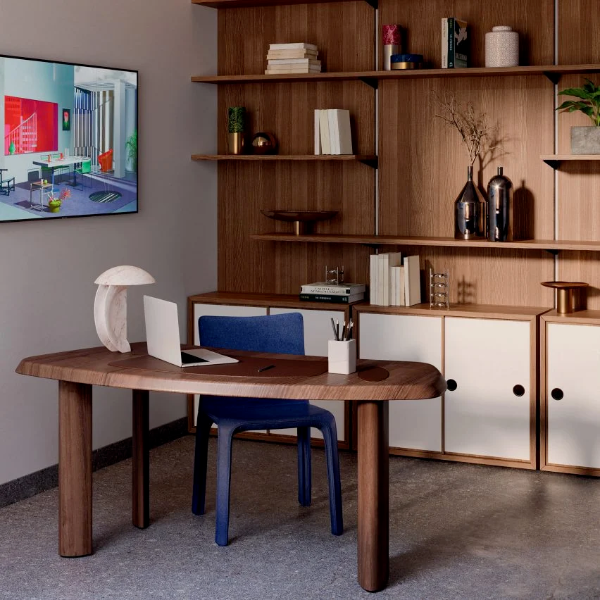 Petit bureau en forme Libre writing desk by Charlotte Perriand
Another reissued piece designed by Perriand in collaboration with Pernette Perriand-Barsac is the Petit bureau en forme Libre writing desk, originally designed in 1956.
The desk, which has an asymmetrical curving form with smooth rounded edges, comes in a solid Canaletto walnut as well as a range of matt lacquered finishes.

Minimal updates have been made to the overall design of the desk, but it has now been adapted for professional use with the addition of power units, cable passages and non-slip padding.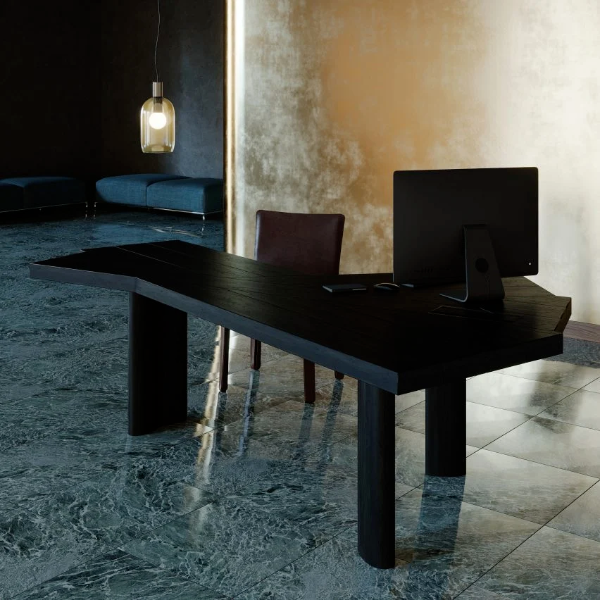 Ventaglio table by Charlotte Perriand
Ventaglio is a multifunctional table designed by Perriand in 1972, which can be used as a kitchen table, living room table or desk.
The table is distinguished by its simple and elegant form and comes in natural oak or oak-stained black finishes.

It is composed of 14 adjoining planks that intersect to create an irregular shape, which provides ample space on the tabletop for computers and work devices. The desk also includes integrated power access.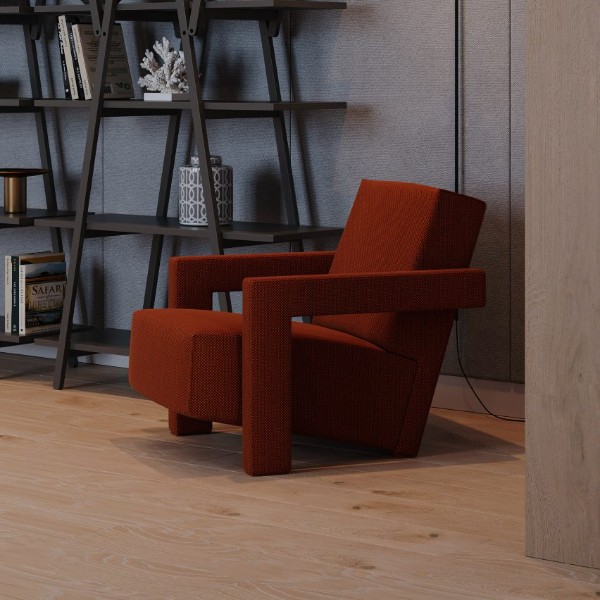 Utrecht armchair by Gerrit T Rietveld
Dutch architect Gerrit T Rietveld originally designed the Utrecht armchair in 1935 for a department store in Amsterdam. Designed for large-scale distribution, the chair was conceived as four puzzle-like parts that could be assembled on site.
Its composition is made up of a generous seat with a reclining backrest and two angular armrests that double as the front legs.

The chair is seen as an example of the neoplasticism art movement, which is characterised by the use of bright colours and austere geometries.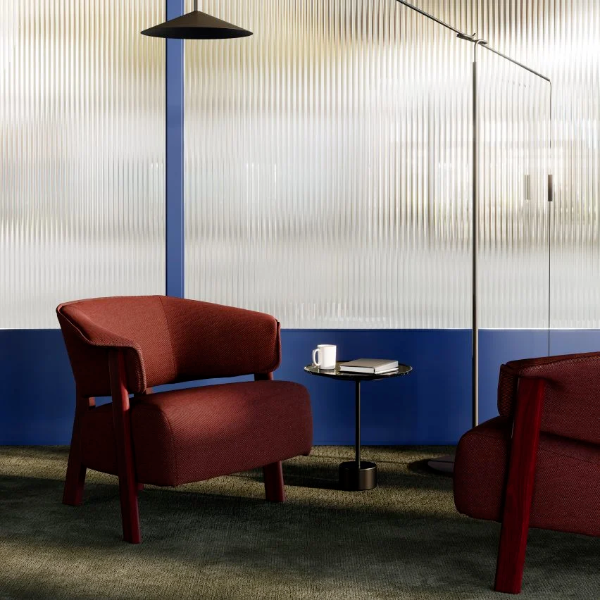 Back-Wing armchair by Patricia Urquiola
Spanish architect and designer Patricia Urquiola created the Back-Wing armchair as a second piece to join Cassina's Back-Wing collection, which includes a dining chair created in 2018 by Urquiola.
The chair has an ergonomic form that envelops its user and a solid wooden structure that demonstrates the "fine woodworking skills of the Cassina joinery".

To offer comfort, the seat is made from flexible polyurethane foam that can be upholstered in Cassina' s wide range of fabrics and leathers that come in multiple colours.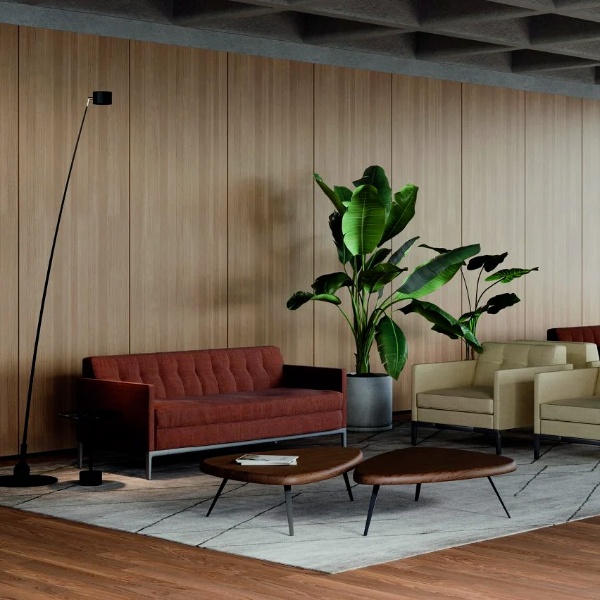 Volage EX-S Slim sofa by Philippe Starck
French designer Philippe Starck has updated his Volage EX-S Slim sofa for Cassina, which now has a smaller footprint to suit smaller spaces such as offices and lobbies.
The new compact sofa features thinner armrests to maximise seating space, which is offered through its generous 75-centimetre depth.
The sofa, which is available in three sizes, features a distinct tufted Chesterfield seatback made using an innovative capitonné tufting process, which Starck and Cassina developed exclusively together.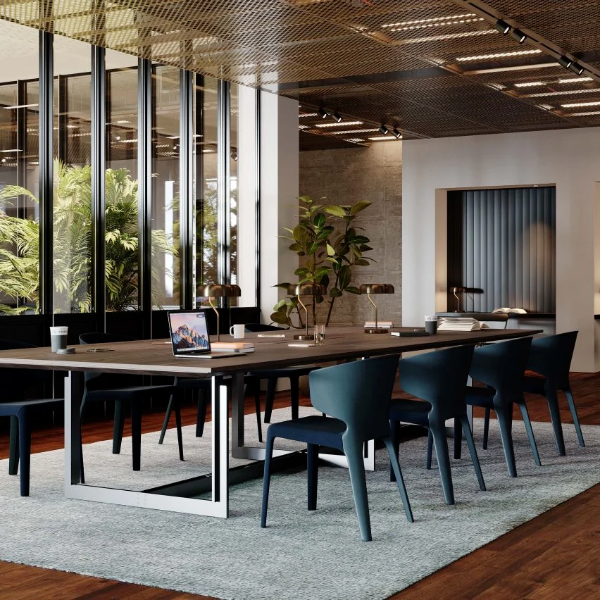 Sarpi Office table by Carlo Scarpa
Italian architect Carlo Scarpa originally designed the Sarpi Office table in 1974, which was based on one of Scarpa's earlier designs called the Doge table.
The new version of the table includes its predecessor' s distinct base but inverts it to create a smaller footprint, which makes it suitable for office spaces of varying sizes.
The table is now available with a timber top and also includes integrated power access and a cable slot.

The source has been identified in this article. All copyrights belong to the original anthor. In case of infringement, please contact us.